Mesh-Ups - Plastic Supports for Remesh and Rebar
The Ideal Solution to Keep Remesh and Heat Cable off the Ground and in Proper Position within Concrete Slab
Durable plastic Mesh-up supports are an ideal solution for maintaining the integrity of remesh and/or heat cable during concrete pours. They are strong, flexible all-plastic "chairs" that easily attach firmly to cables and remesh where they intersect - without the need for ties – providing an effective, secure attachment point that won't shift during the stress of concrete pouring. Mesh-ups successfully keep the remesh (and heat cable) from resting on the ground. Once subjected to the loads of a concrete pour, the Mesh-ups initially compress, but then "rebound", lifting the mesh to its approximate original position.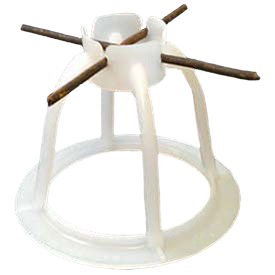 Features and Benefits of Mesh-ups Include:
Snaps easily and firmly to remesh where the wires intersect; preventing the Mesh-Up from rotating, shifting or becoming displaced.
Lifts the mesh, cable and/or wire off the ground, keeping the mesh supported above the membrane before and during concrete pouring.
Unlike rigid support systems, the Mesh-Up "flexes" or collapses during concrete pours before gradually restoring to its original shape. This reduces the stress placed on the wire mesh and helps prevent it from bending or being damaged, virtually eliminating sharp ends of wire mesh from puncturing the membrane to ensure consistent, top-quality concrete work.
The large base ring of the Mesh-Up provides maximum resistance to being depressed into soft sub-surfaces, allowing Mesh-Ups to be effectively used on sand or soft fills.
Mesh-ups act as sturdy plastic springs that rebound after being compressed. This way workers can walk on the remesh during the installation and the plastic "chair" will slowly rebound to prevent the remesh (and heat cable if applicable) from resting on the ground.
The versatile Mesh-Up is available in four sizes:*
• 1½-inch Mesh-Up (recommended for 3 to 5 inch slabs)
• 2-inch Mesh-Up (recommended for 3 to 5 inch slabs)*
• 3-inch Mesh-Up (recommended for 4 to 6 inch slabs)*
• 4-inch Mesh-Up (recommended for 6 to 8 inch slabs)*
(Designed to receive 6, 8 or 10 gauge wire.)
*(Additional chair can accommodate 4 and 0 gauge wire.)
NOTE: Also available in metric sizes. Please call (888) 488-9276 for more information.
Though Mesh-Ups can accommodate a variety of different types of remesh, cables and wires, the plastic supports are designed specifically to receive No. 6, No. 8 and No. 10 wire.
For more information about installing radiant heat systems, contact a friendly Warmzone professional today at 888.488.9276. We're happy to answer any questions you may have and explain the many options that are available.